Zero waste is coming to your hairdressing salon!
The zero waste invites itself in your hairdressing salon: Jean Bouteille and its accompanying service brand Bulk for Brands has struck again by guiding this time the team Le Peigne Vert in the bulk distribution! An innovative project that proves that the hunt for disposable packaging can be done on various scales and in all types of areas thanks to bulk. Marine Duchêne, founder of the show and of the brand, passionate about her job, realizes a dream she has been holding on to for a long time. She tells us about herself in this interview:
Can you tell us your story?
Marine Duchêne: I have been working in hairdressing for 26 years now! Originally, I worked for a big hair brand for 17 years. Then, I created and registered the brand Le Peigne Vert in 2017 for both my eco-responsible hair salon and my products.
I launched the brand Le Peigne Vert after a health problem (respiratory and digestive problems), because I was handling harmful hairdressing products on a daily basis. The products used in salons today often have a harmful impact on health. They are also polluting for the environment: hairsprays and chemical colours have an impact on air quality, ammonia and petrochemical shampoos deteriorate water quality.
"I consulted a health professional and the verdict fell: I had to stop this job that I love... or else find an alternative solution by myself! So I turned to products made from natural ingredients and organic labels.

Because today, organic solutions exist, but are not necessarily adapted to the world of hairdressing. Or organic products have a poor image or lack of information among hairdressing professionals.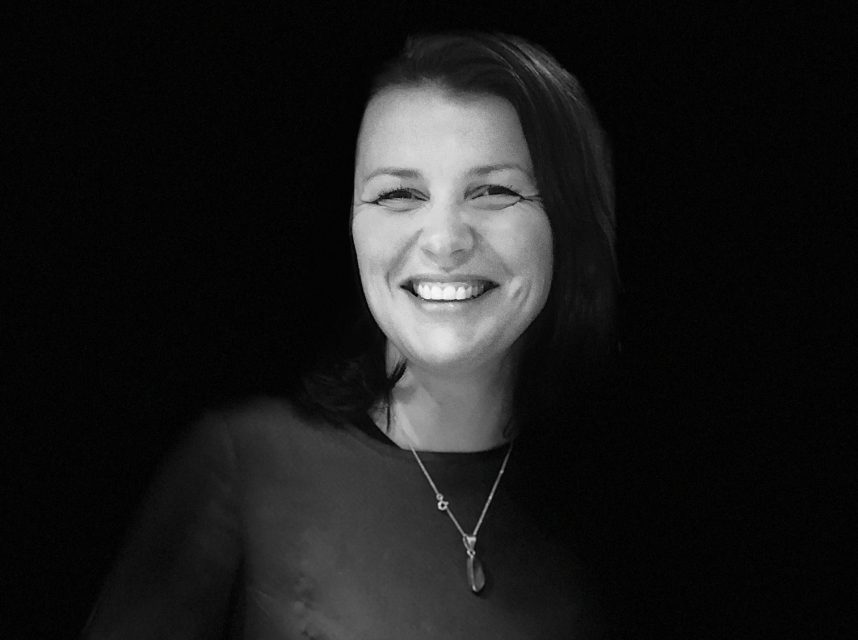 Marine Duchêne: In 2017 I developed a lemon shampoo formula with my partner the Labohème laboratory in Vierzon. Then I created several shampoo and care formulas adapted to different hair and scalp types (straight, curly, thick, dry...). Today, the range includes 10 New Cosmetics certified products, because their composition is simple and 100% vegetable-based (the most demanding label in the organic nomenclature).
"The concept of Le Peigne Vert is to change the codes of hairdressing by offering products that are as French, local, and respectful of health and the environment as possible, while promoting the reduction of environmental impact on all possible levels. The brands we sell in the salon are strictly selected to be free of silicone, ammonia and petrochemical formulas. We check them all through the cosmetology website INCI Beauty."
I also wanted to find solutions and gentle formulas adapted to all types of people: those who are allergic to everything, pregnant or breastfeeding women, people coming out of chemotherapy, etc. In short, everything is designed to reduce our environmental footprint, protect the health of my employees and my customers.
Which team is behind the Green Comb?
Marine Duchêne: Founder of Peigne Vert, I also have another role: that of trainer for apprentices in CAP and BP. I also provide training for the Couleur Chocolat brand of vegetable hair colouring.
I am also supported by Justine Davasse, author of the Guide des Mouvements Zéro, for communication, reception, the whole digital dimension and she is also a great advisor on the environmental part.
In total, I can count on my six employees in the salon. In the hairdressing team, there are Gülden, Hugo, Sabine, and two apprentices Sarah and Amélie.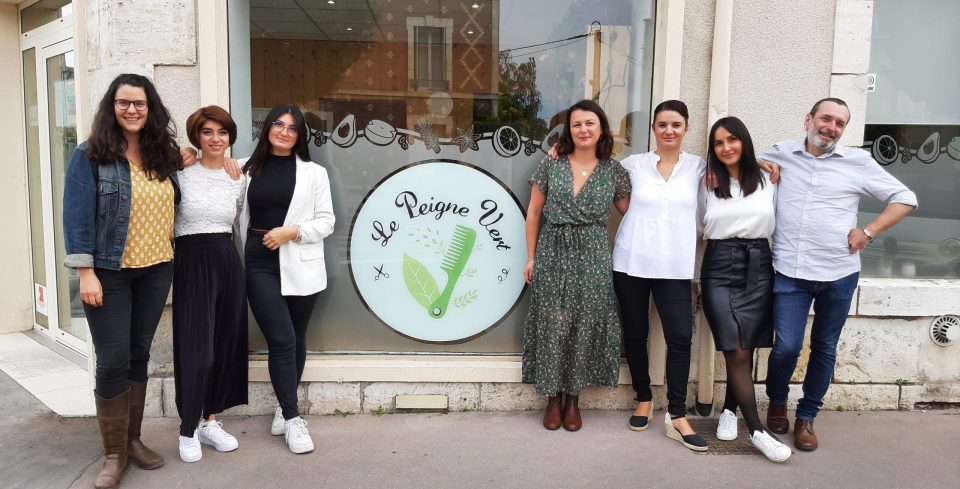 Why did you want to go into bulk?
Marine Duchêne: I've been wanting to offer bulk products for 4 years and I still hadn't found a solution! At the show, I use large cans of several litres for on-site use, and I had to find a solution for take-away sales, so that my customers could also make a gesture at their level.
"The trigger is directly linked to my lifestyle, as I try to live as zero waste as possible at home (even if it is 100% impossible). I was really sad to see all those plastic bottles being thrown away. It was therefore obvious to start a zero waste approach at work and it was also a request from my very committed customers. I also want to educate, it's true, I encourage people to change their mentalities, it's gradually getting into people's minds..."
Moreover, liquid shampoo is easy to use, which solid shampoo does not always meet, depending on people's needs, preferences and expectations. It was therefore necessary to be able to offer a liquid shampoo solution, but in an ecological way.
My products are formulated without preservatives, which added complexity and an extra challenge. I had to be able to meet the hygiene standards. At the beginning, I thought that complex machines were needed. My biggest question was how practical it would be to use.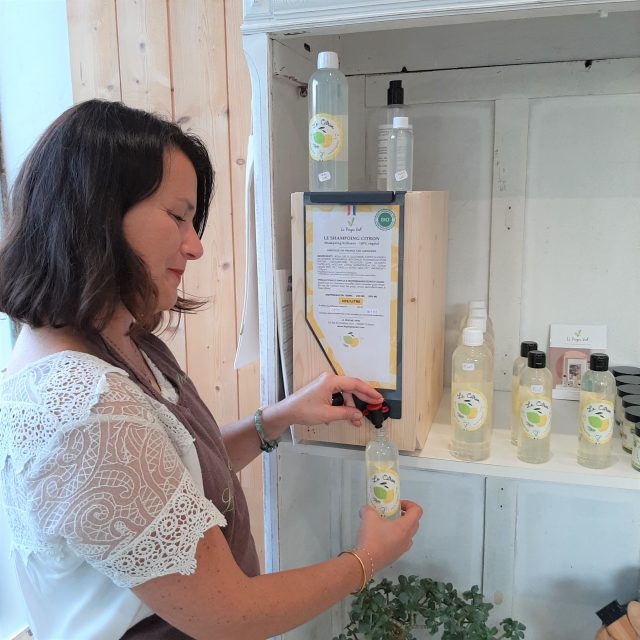 What are your ambitions for the future?
Marine Duchêne: For the launch of the project, we are offering our historic flagship product in bulk: lemon shampoo.
Then a few weeks later we'll decide, I'm also planning to offer a new curl styling gel with aloe vera soon after that. It is not yet available for sale, and is highly anticipated. Other formulas are currently being tested. The goal? To offer 5 of our own brand references by the end of 2022 thanks to your Jean Bouteille system.
Customers will be able to use our branded reusable PET containers. They will be invited to wash their container and come to the show to refill it. I'm wondering about glass afterwards, because it's the most ecological material.
"Today, thanks to our efforts, we take out the rubbish every 4-5 months ! Whereas 7 years ago in my old company, we used to take out 50 litres of rubbish on average per day without sorting it. Yes, there are more than 40,000 hairdressing salons in France: imagine the amount of waste that could be avoided.
Finally, I realise that everyone was looking forward to bulk. I'm the first one to start this in a plant-based hair salon and I hope to inspire many colleagues to offer my products served in bulk in your distribution solution! See what can be done.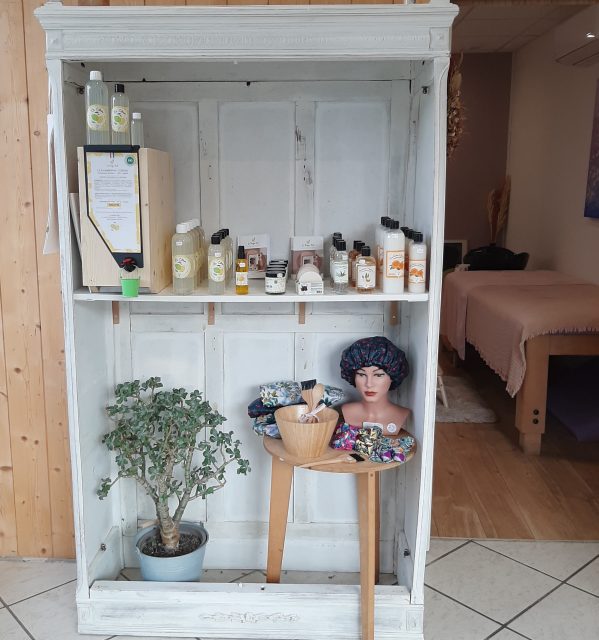 What other actions do you take on a daily basis to reduce your impact?
Marine Duchêne: In addition to bulk sales, we have many other activities:
At the beginning, our customers had to get used to it, because we never offered disposable bagsat the fair for purchases (or a few kraft or reusable bags).


We use

second-hand or hand-made bathrobes made of natural fibres

We reduce our energy consumption as much as possible by using low energyappliances and electricity.


We use

foamers in the rinsing basins to use less waterwhen washing hair. You can also install this

at home too!



Our furniture is made of recycled materials and wood.

We also have a vermicompost bin in the living room

We set up hair recycling with the association

Just Hairdressers

for the depollution of the oceans (in the ports, they make anti-pollution socks: 8L of hydrocarbons absorbed for 1 kg of hair). When a customer cuts at least 25 cm of hair, we make donations to Solidhair for the manufacture of wigs and hair prostheses.
What did you think of our support?
Marine Duchêne: First of all, I'm really happy to work with you. In fact, I have Jean Bouteille at home! What's more, you are the first brand in France to distribute bulk liquid.
I chose you because you were more competitive and your solution more practical. Your wooden fountain is great. I also preferred the purchase to the rental offered by other competitors. I realised that there was no need for it to be automated. You were able to meet the hygiene standards and avoid the entry of air in the product to protect it.
"In any case, the accompaniment wasgreat! Nothing to say, I was expecting something more complex. Everything went very smoothly and the exchanges were fluid and followed. You were able to propose the right solution that could be deployed quickly."
I am conducting training courses in France and I would like to communicate about this alternative. I would also talk about it at the next world hairdressing fair without hesitation!
What changes would you like to see in hairdressing?
Marine Duchêne: For me, the concept can be generalised, even if it takes time to put things in place and for it to become the norm to reuse containers. Everyone should have an accessible solution to make a responsible purchase.
When you use an organic product (shampoo or conditioner), you use less and less often. This is better for the scalp, the hair, the environment and the wallet. The advice we would like to give: prefer the quality of plant-based cosmetics to the quantity of a low-end product. This way you avoid wastingresources and limit your environmental impactas much as possible.
If every hairdresser makes an effort, it can make a difference. The hairdressing world can help democratise zero waste! We are sometimes afraid of doing the wrong thing in cosmetics (regulations are strict to protect the consumer). But it can be very simple, many brands could start. There is a real niche to be taken, it is now!