Interview partner: L'Intendance, your bulk shopping without plastic, returnable packaging delivered to your home!
Driven by common values, our path has met that of l'intendance, temple of online bulk and deposit! Together we want to democratise as many everyday products as possible in zero waste in France. L'intendance now offers our edible oils, cleaning products, shower gels, shampoos and spirits in returnable bottles, all certified organic, Nature & Progrès or Cosmos Organic. You don't know them yet? Charlotte, Marketing & Communication Manager at L'intendance has agreed to answer all our questions in this interview!

Can you tell us your story?
Charlotte: Stewardship was launched in 2019 by Meryem and Noélie, after several observations: plastic is mass-produced, 300 million tons each year, and 1/3 of this volume is dedicated to food packaging. This is far too much. Bulk packaging therefore appears to be a radical solution, but the problem is that it is neither practical nor accessible to everyone yet. Remember, in 2019.
"We wanted to combine a sensible, ethical, healthy and conscious way of consuming with today's online shopping habits. This is done by completely eliminating plastic from our daily lives: it has no place there at all."
This involved online shopping, with the aim of completely eliminating plastic and reintroducing the deposit. And as good living people, we certainly did not want to make any concessions on the selection of products and producers, which we chose mostly organic and French, and we are very proud today that they have agreed to go to bulk and to the online deposit with us.
Can you present your concept?
Charlotte: L'intendance is a website where you can do all your organic shopping in bulk without plastic and with returnable glass packaging. We obviously offer the basics such as organic pasta, organic rice, returnable drinks... But we have also managed to include other products that are difficult to find without plastic: tofu, nail polish remover and wine are returnable. We also wanted to identify the best of zero waste for our customers and gradually cover all categories of cosmetic products (shampoos, shower gels, solid soaps and shampoos, etc.) or cleaning products (washing powder, toilet gel, washing-up liquid, etc.) in zero waste. We have also developed 100% plastic-free fresh products: dairy products, eggs, bread, fruit and vegetable baskets, etc.
"We managed to find all the usual products of a standard French household so that we can do all our shopping in one place. The good news is that our producer partners are keen to support us in this transition to plastic-free and so promise us an increasingly wide range in the coming months."
Our obsession, therefore, is the diversity and quality of a selection of bulk and returnable products. The dry products are packaged in biodegradable or recyclable kraft and the glass containers for our liquid or fragile products are refundable thanks to the involvement of our delivery partner, Olvo: the delivery person collects the glass containers on the next delivery, we collect them and credit the customers with 1€ per container on their account, to be spent on their next shopping. In short, a small chain that works super well and delights more than 3000 people in France who regularly shop with us (including us!).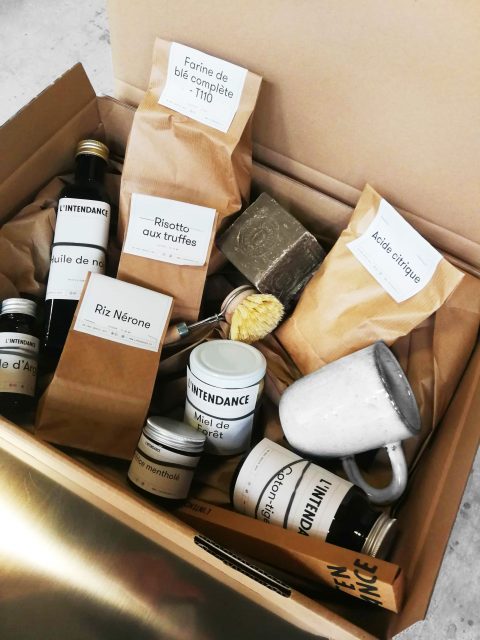 A great commitment! Who is behind it?
Charlotte: We are a small team of 10 people divided between the logistics and the office: Johann, Lucas and Victor are in charge of packaging the products and preparing the orders. Next to them, the rest of the team composed of Meryem, Noélie, Clothilde, Charlotte and Théo divide the subjects between development and financing, operations, purchasing, marketing, communication and acquisition to make our project grow.
We all have an optimistic and passionate streak in our fields, but we have also developed the ability to multi-task and this is what makes us feel fulfilled. We don't limit ourselves to the fixed radius of our missions.
"We like to to go beyond and express our creativity creativity in everything we do without putting up barriers, which results in a which gives us a great mix of cultures and experiences and we also like to get together every day for the Stewardship project.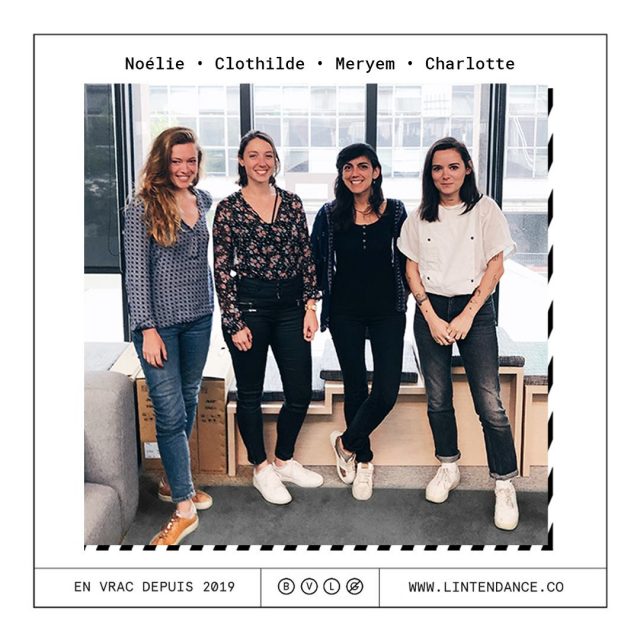 What are the 3 words that best represent your company?
Charlotte: Frugality, ingenuity, sparkle (we decided that it existed !)
How do you select your products and partner producers?
Charlotte
: We are either contacted or we go directly to the producers we want to work with.
partner producers
with whom we wish to collaborate. Several criteria are used: we look for
organic and French
products
,
good
products
(we always test them first!) and sustainable products. We also select
sincere and benevolent approaches
. But above all, we look for producers who are
willing to go to bulk or to deposit
and who could hardly do so without
us taking care of the logistics for our customers
. What we like is that we always find a solution with each of our partners to adapt to our credo,
either to propose large packaging
for bulk sales at our place,
or to transform their recyclable glass jars into returnable jars
to give them several lives.
Jean Bouteille: To find out more, discover their "Direct Producers" series of interviews and in particular our portrait on the L'Intendance networks.
How did you think of us?
Charlotte: How could we not know Jean Bouteille? Even before going zero waste, we had spotted the small reusable bottles and the bulk in supermarkets, and we had kept your name warm for our professional adventure. And then once L'intendance was launched, we obviously thought of you to complete our range of products.
Why did you opt for the deposit?
Charlotte: Because it is the best solution to combine zero waste and pleasure. Zero waste first of all, since the reuse of glass bottles as a whole allows a 79% reduction in greenhouse gas emissions compared to recycling these same bottles. Also, and contrary to popular belief, washing the bottles saves 33% of water - yes! And it avoids all the energy involved in destroying, re-melting, manufacturing and re-transporting new bottles. Finally, pleasure, because even if we love making our own products or using solids, we still like to have products ready to use, such as our face care products or fabric softener, to make life easier and not to stray too far from our daily habits (out of laziness, no doubt, but we want to get as close as possible to current lifestyles, by eliminating any negative externalities).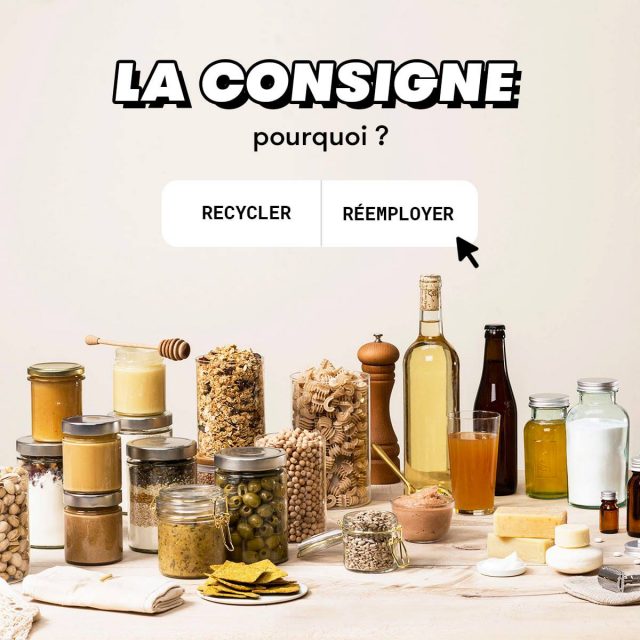 Which Jean Bouteille products did you choose and why?
Charlotte: We made a selection that was both useful and pleasurable, but above all Jean Bouteille allowed us to offer products that we and our customers had been waiting for a long time! Shampoos and shower gels (we're talking about the Orange Blossom one? our favourite too), laundry and home care products, and vegetable oils for food, all in bulk and delivered in returnable bottles. Yippee!
The feedback from customers? a great relief at first! When you can't get used to soap, solid shampoo or homemade washing powder, when Jean Bouteille arrives it's intergalactic joy (without exaggeration). FINALLY, products for everyday use, made in France and certified ecological, whose packaging will not end up in the bin... Well, and obviously everyone agrees on the Orange Blossom shower gel, eh: everyone compliments it and we can only agree... Well done Jean Bouteille!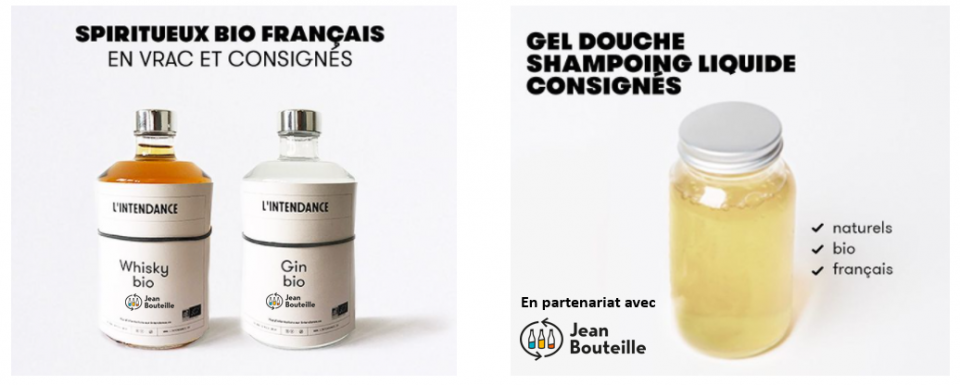 What other actions are you taking on a daily basis to go further in the zero waste approach?
Charlotte: In the team we are all convinced of theimportance of the individual role in the collective responsibility of the ecological transition. This also involves zero waste in all our daily habits and we learn from each other. To speak more concretely, we live in bulk and consignments on a daily basis (easy, we have everything at our disposal at the office), we favour second-hand goods. But we also collect waste on the beach in the summer, we regularly share our tips and experiences on Instagram or on our blogs (personal or professional) in a clear and didactic way, we make our circle of acquaintances aware of our challenges, we have done quite a fewawareness-raising interventions in companies (which we would like to do again), in short.
"We almost want to tell you thatwe eat, drink, sleep and live loose and consigned."
We understand you! And as a company?
Charlotte: We also feel that our part of the action is not limited to the staff. When we contact new producers, we come to them with our full argument on the deposit and bulk and the advantages that these present: sometimes it doesn't work, other times it plants seeds and it's never a flash in the pan, and from time to time, it works and we manage to make producers switch to new, more sustainable and circular logistics thanks to the deposit.
As a company, we also believe that our impact is in our interactions with our different partners, our producers of course, but all the people we work with on a daily basis are sensitive to our approach and spread the word: this plants seeds and germinates theimportance of the individual's role in the ecological transition and the possibility of the emergence of a circular and sustainable logistics thanks to the deposit.
Meryem is also the secretary of the board of the Réseau Consigne Île-de-France, which will give us a little more room to manoeuvre in order to act on a larger scale.
What are your ambitions for the future?
Charlotte: Always more variety, choice and deliciousness for a 100% plastic-free daily life. Convince all French people to switch to a more sustainable way of consumption and make it as easy as possible for them, thanks to great partners like you.
Jean Bouteille: Thank you very much Charlotte for all these confidences, it really made sense for us to team up!We are delighted to be working together on this ambition: to make healthy and zero waste consumption accessible!
Discover our products on the Intendance