L'Occitane en Provence deploys bulk in its shops!
As a result ofcollective awareness, the zero waste approach is increasingly being extended from food products to those used in the bathroom. Bulk is now entering the shops of our partner L' Occitane en Provence! It is with great pride that our new Bulk for Brands service has accompanied their team in this committed project.
Joining the pioneer brands on the subject of bulk cosmetics, L'Occitane wanted to accelerate their approach towards a more virtuous consumption and in particular the reduction of waste. Following our meeting in 2020 at the Change NOW trade show, and after a year of work, we succeeded in developing a bulk distribution solution adapted to the needs of the cosmetics industry and the expectations of the brand, thanks to our expertise in liquid bulk.
Corinne Fugier Garrel , innovation director of L'Occitane en Provence, looks back on this adventure together in this interview.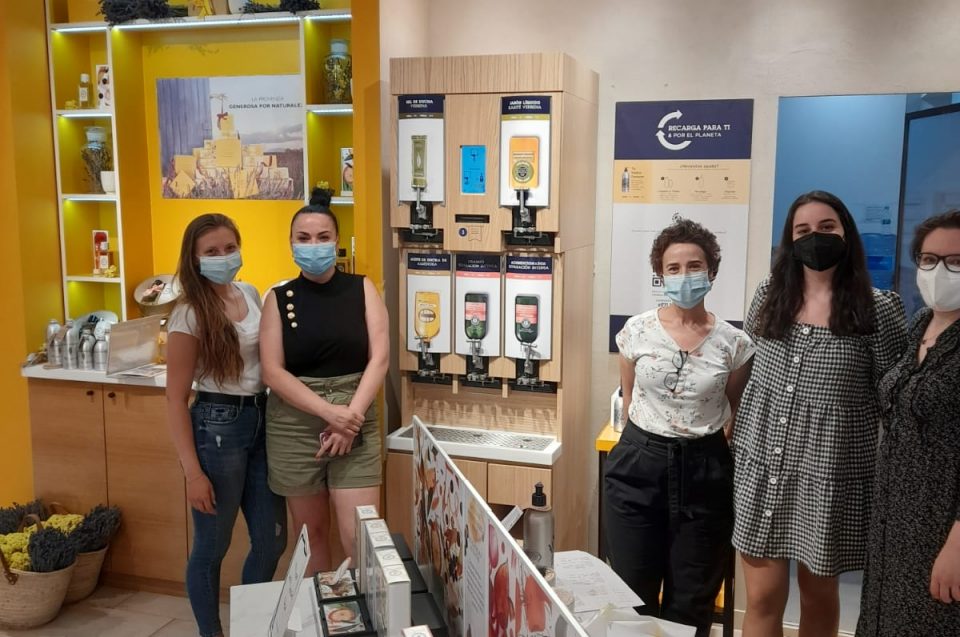 Why did you want to go into bulk?
Corinne Fugier Garrel: Bulk is an integral part of our company's approach and culture. At L'Occitane we take into account the impact of packaging on our planet. Since 2008, we have launched the eco-refill for 25 references, which allows us to avoid 80% of plastic. We want to go beyond this 80% and bulk packaging is an obvious choice. 
What were your expectations for the bulk product development project?
Corinne Fugier Garrel: We were looking for a reliable technology that was easy to use for our saleswomen and that could be deployed internationally. Our brand is very present in Asia, and if we want to change consumption patterns, we had to force this purchasing process in Asia because bulk is very little present there.
Why did you choose Jean Bouteille for your bulk project?
Corinne Fugier Garrel: Jean Bouteille is a fountain technology that has already been used, the principle is simple. With the launch of our bulk system in distant countrieswe couldn't take the risk of managing technical constraints with an unproven technology. unproven.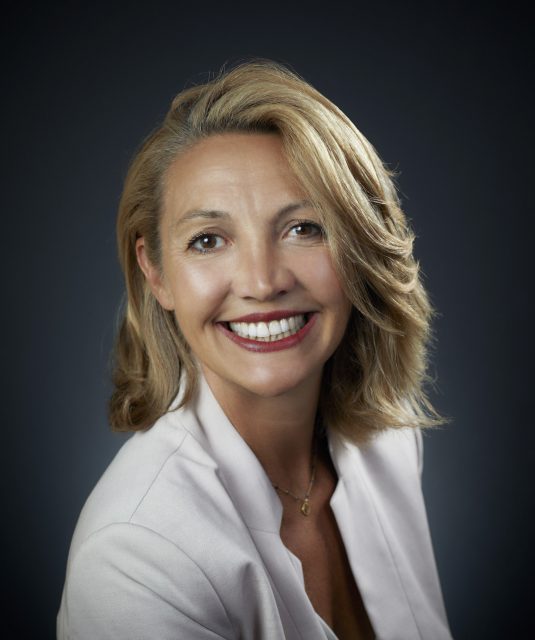 How did the project go?
Corinne Fugier Garrel: There were several stages. The bag-in-box was new for us, it was an integral part of your bulk distribution system . First of all, we tested the compatibility of our products with the fountains, as this is a key point. We measured the rate of restitution in the bottle to get the maximum amount of product out of the bag.
"We offer bulk shower oils through shower gel, shampoo and conditioner because our desire is to offera complete bulk routine to our consumers."
The design of the dispenser was carried out with our concept team, which took into account Jean Bouteille's technical constraints. It was a joint construction with your teams to create an eco-designed piece of furniture. You took into account our problems of sterilisation of our 100% recycled aluminium bottles.
The prototype phase allowed us to make the necessary adjustments because we worked in parallel with the subsidiaries to take into account their country constraints, and we were able to arrive with 60 distributors in the launch phase in more than twenty countries .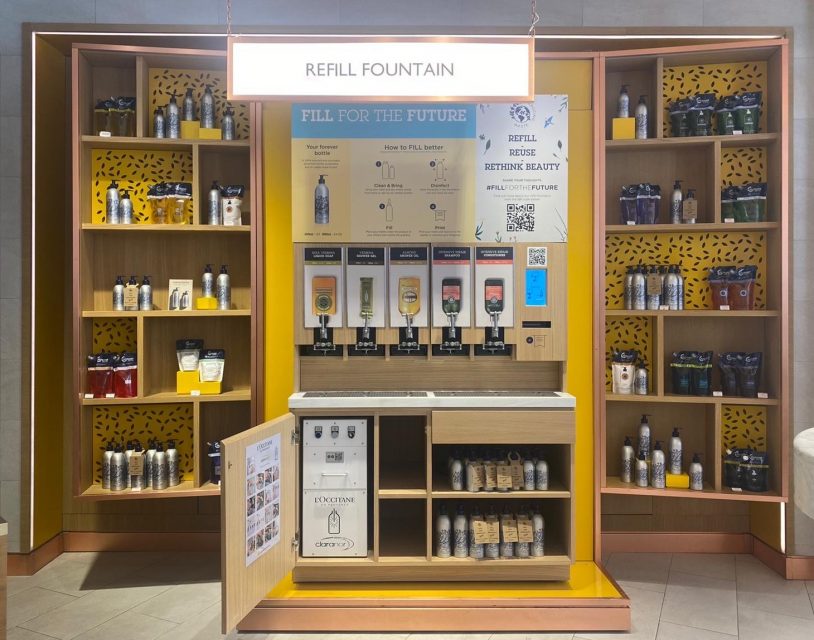 What are your future bulk ambitions?
Corinne Fugier Garrel: The bulk dispensers will be available in more than 20 countries with 60 fountains. The first installation started on 22 June in Paris.
We are starting with 5 references in bulk, and we want to increase our offer to develop bulk.
What other actions are you taking on a daily basis to improve your environmental approach?
Corinne Fugier Garrel: To improve our environmental approach, the L'Occitane en Provence brand is working to reduce packaging. We also want to remove the application spatulas present in some of our products to make them a durable accessory. In addition, we are also working in general on lighter packs that are as reusable as possible, with two alternatives, either with an eco-refill or at the bulk fountain.
If you were to recommend us following our coaching, what would you say?
Corinne Fugier Garrel: It was really a co-construction, everyone came up with good ideas and constraints and everyone was able to take them into account. The simplicity of the technology and its robustness is reassuring. Jean Bouteille's flexibility to adapt is the key.
Partnership is really the word, because we trusted each other, it's a marriage since 2020 that lasted 1 year, we made many milestones.
"You have a startup mentality with agility all the way, we were able to adapt, there are mutual gymnastics, we could see how a startup can stretch with a very organised group that has its process."
Jean Bouteille: Thank you to the whole team for your trust and commitment! It was a great challenge and experience to work on your project.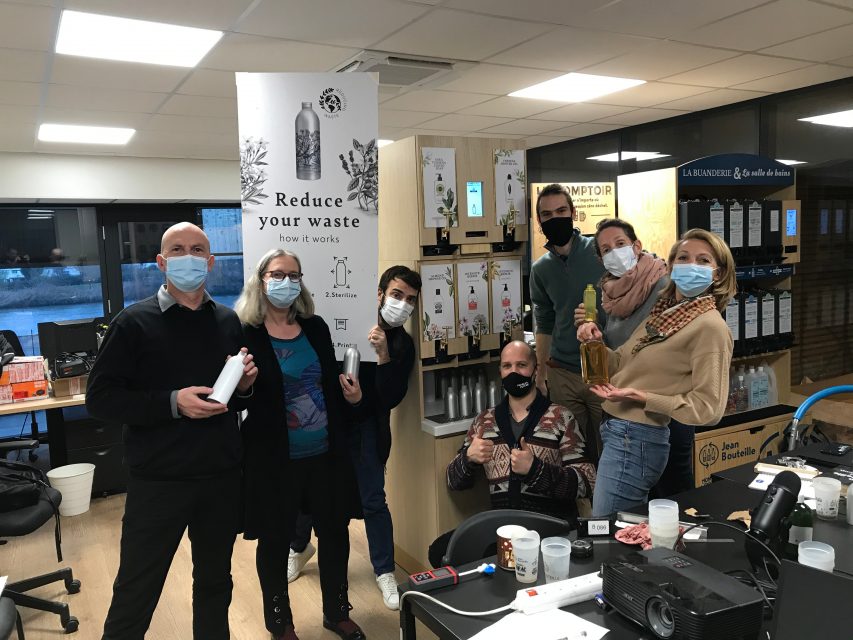 A successful bulk project in collaboration with our partners
Our bulk dispenser is scalable and adapts to the brand's containers. We worked with the Mobilwood team for the structure of the cabinet and with the Claranor team to integrate Ste'Refill, a compact, self-contained standard module for sterilising packaging by pulsed light adapted to refillable packaging. This disinfection treatment is complementary to the home cleaning protocol recommended by L'Occitane, and provides a unique additional level of security.
Our approach to waste reduction extended to the choice of labels from the Max Stick company. Usually the siliconised backing of traditional labels ends up in the waste bin as soon as the label is glued to its destination surface. The glassine paper waste usually weighed 40% of the weight of the label reels. In addition, permanent labels often leave residues that are very difficult to clean. Here the chosen model avoids any waste of glassine paper, the labels are silicone free, less impactful for the environment, with an easy to peel adhesive & without traces.
Would you like to commit your brand to more responsible and sustainable consumption? Contact our brand manager François MOIGNET!